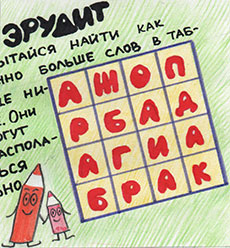 Petr likes to solve crossword puzzles and other conundrums. Once he found in a newspaper a new puzzle called "Erudite". There was a square table 4 × 4 filled with letters. It was required to find in the table as many words as possible; the words could go up, down, to the right, or to the left and break at right angles any number of times but they could not have self-intersections.
Petr's friend Vasya told him that it was very silly to spend time solving this puzzle. He told it was much easier to write a program that would search for the required words in a dictionary. Petr was offended and told Vasya: "If you are that clever, write the program yourself. I will cope with the puzzle myself, the way I like." Help Vasya to get out of the situation. You should write this program.
Input
The first four lines of the input contain a table 4 × 4 consisting of lowercase English letters. In the next line there is the number n (n ≤ 100) of words in the dictionary. These words are given in the following n lines, one word per line. Each word consists of lowercase English letters and has length from 1 to 16.
Output
For each word from the dictionary output "YES" if this word can be found in the table and "NO" otherwise. Use the format given in the sample.
Sample
input
output

abra
adac
babr
arca
3
abracadabra
ababaab
ababaaba

abracadabra: YES
ababaab: YES
ababaaba: NO

Problem Author: Vladimir Yakovlev
Problem Source: IX USU Open Personal Contest (March 1, 2008)